We are excited to announce that for our 22nd year of Project Faith, our all-school fundraiser and service project, on Friday, April 28th, we will serve Apple Ridge Farm.
Apple Ridge Farm is a non-profit organization which transforms the lives of our community's underserved children and families through engagement in unparalleled educational, cultural, and outdoor experiences. Its vision is to grow the well-being of the underserved communities in the Roanoke and New River valleys through the exploration and execution of environmental sustainability, leadership and success mentoring, and exposure to outdoor experiences.
Click here to learn more about Apple Ridge Farm >>
This year's verse:
"Never be lacking in zeal, but keep your spiritual fervor, serving the Lord" - Romans 12:11
What is Project Faith?
Project Faith is an extraordinary undertaking with the purpose of serving our community for the past 22 years. For one day, the entire school works at area organizations lending time and energy to accomplish a multitude of tasks. This year nearly 500 students, parents, faculty, and alumni will serve Apple Ridge Farm by painting, cleaning, landscaping, repairing, and organizing. These are projects the organization simply would not be able to complete due to budget and personnel constraints.
Our Purpose
We desire that our students understand the importance of honoring God by serving others. Project Faith provides students the opportunity to invest in their community by working for the good of others. In addition, students serve their school by asking for financial support.
Project Managers
Heather Matthews will serve as the Project Faith Committee Chair and will lead a team of Project Managers, parent volunteers and alumni who have already been hard at work on Project Faith for months. You will hear soon from your Project Managers with specific details about the work that day.
This year's Project Faith Committee includes:
Heather Matthews, Chair

Samantha Clayman

Erin Myers

Chelsea Palmer

Catherine Amiss

Julie Sessor

Rachel Pasley

Ashley Vaughan

Jenna Beecher

Anne Myers

Greg Beecher and Alumni Brett Jones, Logistics Managers
Project Faith Student Managers
We also introduced 20 juniors and seniors selected to serve as Project Faith Student Managers. This group was created several years ago for Upper School students to serve alongside Project Managers to guide students and parents at the Project Faith site. They will perform skits, decorate halls, and visit classrooms to raise excitement in the days leading up to Project Faith. The Student Managers have chosen a fun "SPY" theme for their efforts this year.
Packet Distribution & Letter Writing
Friday January 27
Project Faith packets will be sent home. Students will watch a recorded Assembly at school to go over the packets and the link will be made available for parents to watch as well. Packets contain materials, instructions, and information to begin the VERY IMPORTANT first step in making Project Faith a success: the letters. For those new to this process, students send letters asking family and friends to sponsor them as they serve on Project Faith. Grades JK - 5th are asked to send out 15 letters each and Grades 6 - 12 are asked to send out 20 letters each. Families with three or more students have a minimum of 40 letters.
Friday, February 24
Letters are due back to school. (You are welcome to send them in earlier.)
Tuesday, February 28
We will pray over the letters. All letters will be mailed from the school that morning.
In preparation:
Pull together your Christmas card lists and other names and addresses of possible sponsors. (A list of your child's previous sponsors will be included in the packet.)

Purchase stamps.

Again this year, we are providing envelopes for you!
2023 Goals
We are again striving for 100% student participation in sending out letters! We have asked that every family send sponsor letters to at least three new people, above the minimum required letters. We will also offer a variety of incentives to students that participate in letter writing.
Project Faith Day/Celebration
Project Faith day is a day of service—a full school day dedicated to completing all tasks, as well as everything packed and cleaned up at the site before we leave. We will take breaks for snacks and everyone brings a packed lunch. We will break for a mid-morning snack, for lunch, and then once all the work is completed we will all celebrate together at Apple Ridge Farm.
Corporate Sponsorships
Project Faith Corporate Sponsors are vital to the success of Project Faith. Last year local businesses contributed over $40K. If you would like to know how to become a sponsor, or know someone who would, please contact Jay Whitmore at 540-769-5200 extension 138.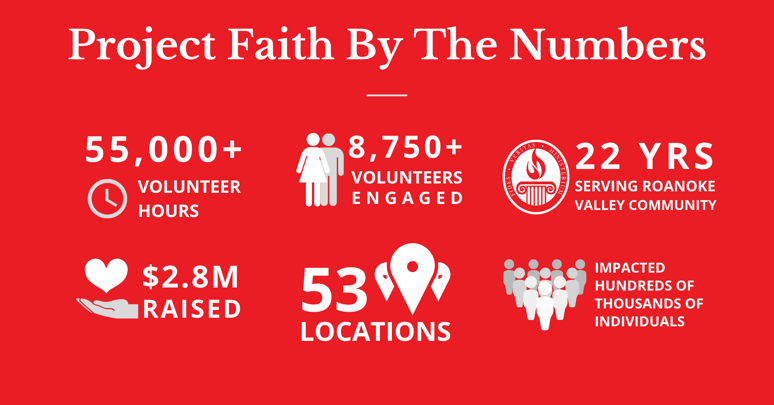 How can you, your friends, family, and business associates support Project Faith?
Your support is critical in helping Faith Christian School succeed. In early February, students mail out letters asking to be sponsored for Project Faith. Typically, over 4,000 letters are sent out every spring and donations come in from all over the world. Each student is requested to send out a minimum number of letters and many students and families go above and beyond.
Where has Project Faith served previously?
2002-03 – Fishburn Park
2003-04– Roanoke Valley Greenways Commission and the National Park Service: portions of the 6 miles hiking trail around the Roanoke Mountain Campground
2004-05 – Roanoke Valley Greenways Commission and the National Park Service: hiking trail around the Roanoke Mountain Campground
2005-06 - US Park Service and the Roanoke Valley Greenways Commission: Mill Mountain
2006-07 – Mill Mountain and Fern Park
2007-08 – Rescue Mission: Thrift Store, Women's Shelter
2008-09 – Rescue Mission's Jubilee Acres
2009-10 – Salvation Army downtown Roanoke: Men's and Women's Shelters, Community Center
2010-11– Mill Mountain Wildflower Garden; Friends of the Blue Ridge Parkway; Roanoke Mountain Campground; YWCA; Blue Ridge Women's Center
2011-12 – Mill Mountain Discovery Center; Mill Mountain Wildflower Garden; Roanoke Mountain; Chestnut Ridge Horse Trail; Roanoke River Trail
2012-13 – Manna Ministries; Society of St. Andrew – Gleaning America's Fields; Charity Cottage; Rescue Mission; Feeding America
2013-14 – Historic downtown Jefferson Center
2014-15 – Red Cross; Acts 2; Straight Street; Jefferson Center
2015-16 – Grandin Village - Grandin Theatre; Local Roots; Viva la Cupcake; The Church of Grandin Village; The Heights Community Church; Imagination Station; 7-11; Tarpley Park
2016-17 – Camp Alta Mons
2017-18 – Roanoke County Explore Park
2018-19 – Healing Strides of Virginia
2019-20 – HopeTree Family Services, Salem VA
2020-21 – 20th Anniversary of PF - Mill Mountain Zoo; HopeTree Family Services
2021-22– Saint Francis Service Dogs

Eye Care & Surgery
T-shirt Sponsor
Virginia Furniture Market
Premier Sponsor
Century Title Services, Inc.
Premier Sponsor
Wilson Law Firm, PLC
Online Giving Sponsor
A & D Fence
Berglund Chevrolet
Blue Ridge Cancer Care
Blue Ridge Diesel Injection, Inc.
Capstone Project Services, Plc
Chick-Fil-A
Copeland Excavation
Custer's Custom Painting Service, Inc.
David L. Ellis, Jr.-Morgan Stanley Wealth Management
Guelich Capital Management, LLC
Hawk Advisers
Homestead Settlement Services, LLC
Prestige Acres Landscaping
LMC Safety Barricade Corp.
Merrill, Gobble-Hammer & Associates
Pro-Line Trailer Sales
Roanoke Valley Orthodontics-David Jones, DDS
SABO Excavation and Hauling
Skip Hamilton -Davenport & Company
The Sherwin-Williams Co.
Tidy Services
Universal Rx
American National Bank
Anderson & Reed, LLP
Bank of the James
Branch Management
Delta Star, INC.
First Citizens Bank
Freedom First Credit Union
Friendship Health & Rehab Center South Hall Associates
LIQUID PERFORMANCE
Mountain Walk Development
Nutrien Solutions
Roanoke Gas Company
Salem Surgical Associates
Stockner Excavation, LLC
Total Life Counseling, Inc.
Urology Associates
Waid Powell - Wainwright & Co., REALTORS
Project Faith Corporate Sponsors are vital to the success of Project Faith. Last year local businesses contributed over $40K. If you would like to know how to become a sponsor or know someone who would,
please contact Jay Whitmore at 540.769.5200 extension 138.